Aaahhh, I have reached film nirvana. I don't need to see any more films this month. I can just go back to the cinema and watch Pride every night for as long as it airs.
Because this is the internet I should probably preface this rhapsody by saying, obviously,
your fave is problematic
. Nothing is perfect and equality politics are difficult but Pride is a delight and I loved it. Pride is 'inspired by the true story' of lesbian and gay support for the miners during the strikes in Britain in the 1980s. I know that some people object to the increasing fictionalisation of history in pop culture but, generally speaking, I'm in favour. I don't think that many people watching these kinds of films think they are seeing an exact record of events – they are aware that they are watching a story and if the topic sparks their interest they can find historical/academic source material later. I also think that often a consciously constructed fiction/narrative can be the best and most accessible way to communicate wider truths about an event, time, movement etc. Yes, despite the homophobia and hatred that are portrayed in this film, it probably still elides a lot of the bigotry and brutality faced by the gay community (and by the labour movement)(and the violence that both of these communities committed in self-defence, fear and to further their causes). Pride is rose-tinted: the timeline is coherent and the people are beautiful and the dialogue is snappy. It is entertainment not documentary and I'm fine with that. Unfortunately, this works both ways and if you are going to sugar-coat history a bit of diversity would have been nice. Obviously Welsh mining villages in the 80s were not thrumming centres of racial diversity but it seems like a strange oversight to make the London gay scene quite so glaringly white… You can't have it all though.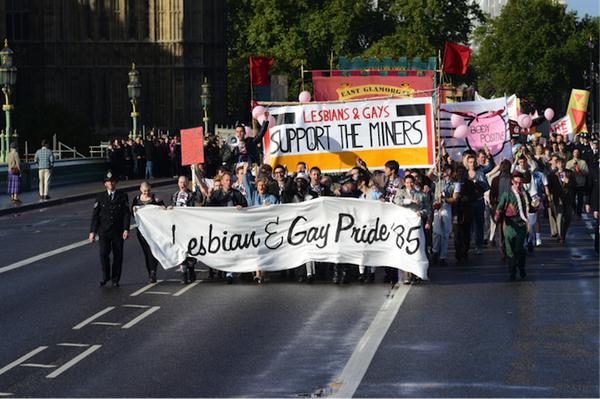 These issues aside, Pride is pretty much my dream. The cast is amazing – Imelda Staunton, Bill Nighy, Andrew Scott, Dominic West, Paddy Considine,
that guy from This is England
,
that girl from Fresh Meat and The Bletchley Circle
,
that babe from Sunshine on Leith
. The 80s costumes, hair and music are amazing. I love the very British humour and sensibility of the film. It is sad and funny and charming and poignant. It is a festival of gayness and Welsh accents. That said, this is gayness designed to appeal to a middle class, conservative (small c) audience – sympathetic gay bashing and AIDS victims but no actual sex and little more than chaste kisses. There could have been more snogging, that's all I'm saying.
I want a whole extended premium TV show about the lives and loves, futures and origin stories of the
Gay's The Word
bookshop but until then I will be buying the Pride DVD the moment it comes out and playing it on repeat. Highly enjoyable fare. I'm not sure what kind of distribution the film will be getting outside of the UK but keep an eye out for it or, if you've already seen it, let me know what you thought.